Ofsted and SIAMS Reports
We were first inspected in May 2014 when Ofsted judged us to be 'Good' in all areas:
Behaviour and safety: Good
Leadership and management: Good
Overall effectiveness: Good
Following our SIAMS inspection (Statutory Inspection of Anglican and Methodist Schools) in November 2014, we have been judged to be Outstanding, the highest rating possible, in three of the four areas, and Outstanding over all. We are inspected every five years by the Church inspectors, in addition to our usual Ofsted inspection. This inspection looked at the teaching and leadership of RE, our assemblies (collective worship), how well children understand our values, how we link with the local Churches and the community and how the Academy is led and managed… amongst a whole range of other things. The full report is below for you to read.
The report recognises our strong pastoral support, how we value each child in our care, and how we strive to include all children's religious beliefs or none, as well as celebrate every child's background. We are really proud of the outcome and thank every parent, carer, child, member of staff and Local Board member for their on-going support.
Click on the picture below to read our most recent Ofsted Report from May 2014
or our SIAMS (Statutory Inspection of Anglican and Methodist Schools) Report from November 2014: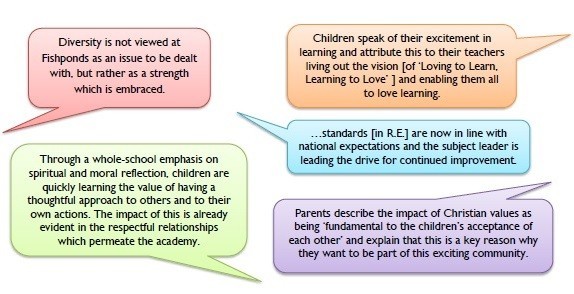 Quotes from our SIAMS inspection report in November 2014
Inspector information secure area