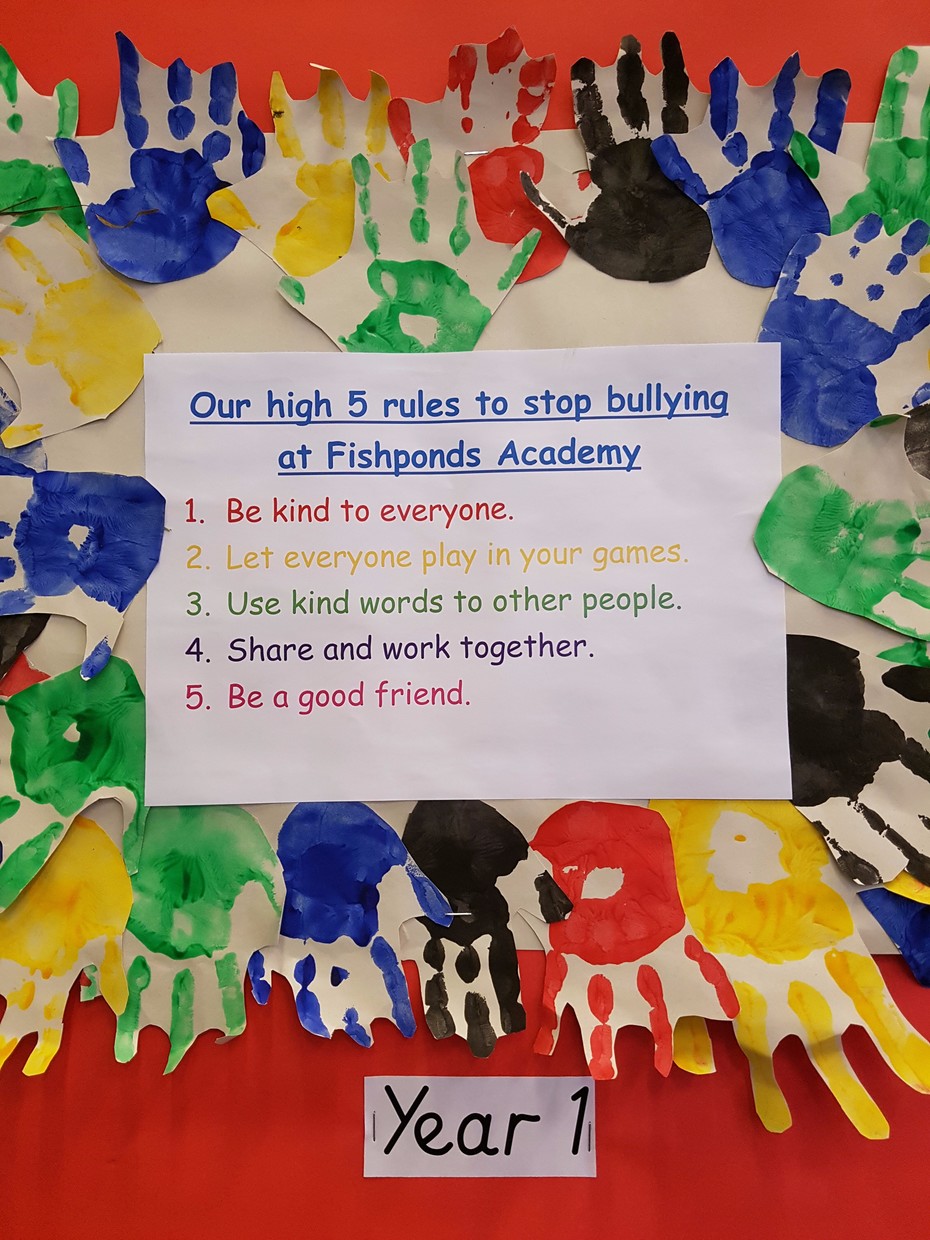 Here at Fishponds, we are committed to working with children and families to prevent and stop bullying in our school community. We aim to ensure that every child progresses through school feeling happy, safe secure and fully knowledgeable of procedures that are in place to help make this happen.
Although there is no legal definition of bullying, it is usually defined as behaviour that is:
repeated

intended to hurt someone either physically or emotionally

often aimed at certain groups, e.g. because of ethnicity, religion, gender, disability .or sexual orientation
Bullying can often take many forms including physical, verbal, indirect, extortion, and cyber- bullying.
Not all aggression is bullying, nor all name-calling; it may be a one off act of unkindness.
It becomes bullying when there are a number of unkind acts directed towards the victim over time.
Our Approach to tackling bullying: the 'problem-solving' approach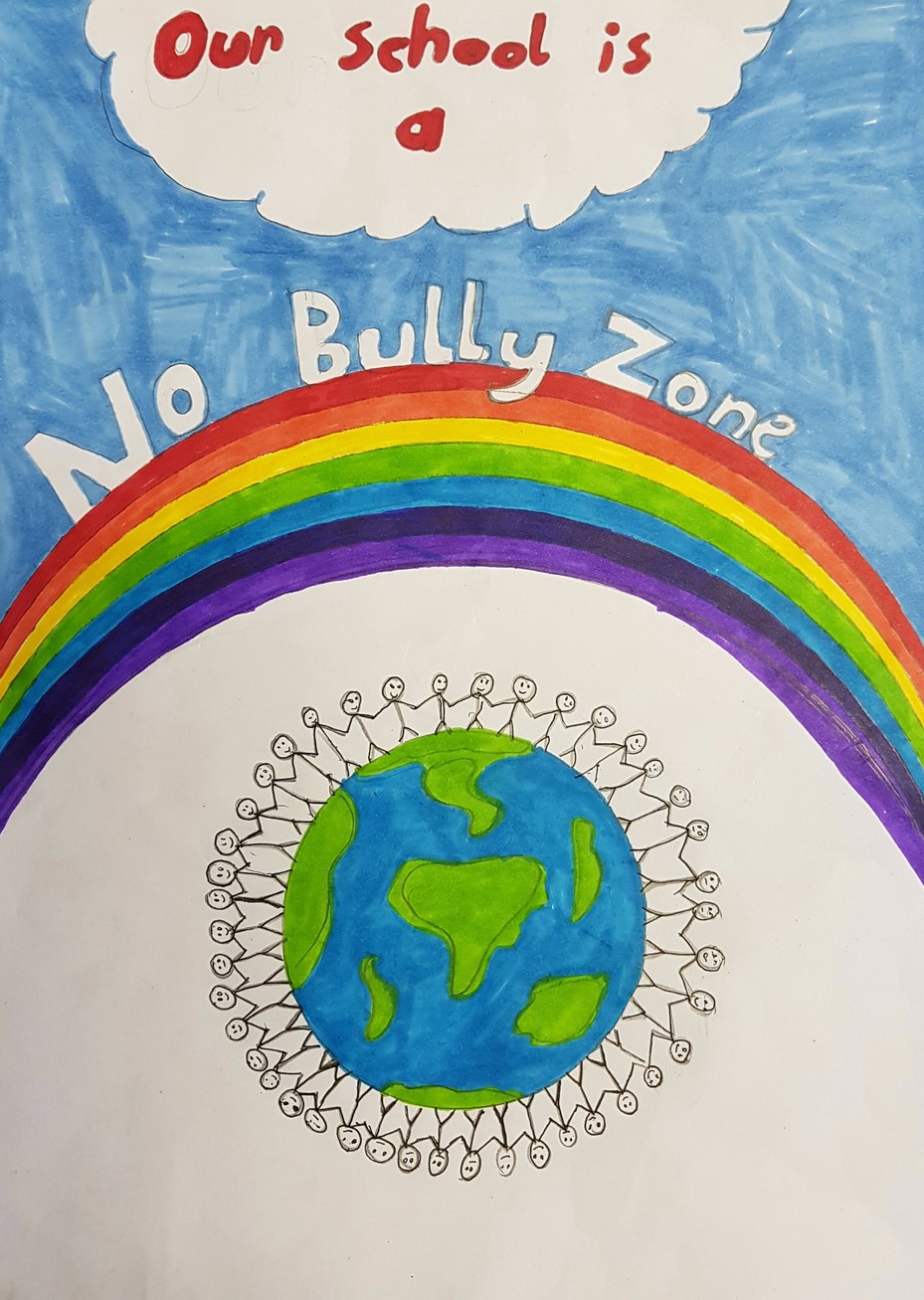 Where a case of bullying has been identified, our principal aim is to restore relationships between the victim and the bully. Our approach is based on the widely accepted understanding that the most effective strategies to combat bullying include the following:
Involvement of the wider school community in finding a solution to the problem/s

Consistency in prevention and response

Taking all issues seriously

Not seeking in the first instance to apportion blame

Involving parents/carers at an early stage
The most successful intervention strategies all involve a problem-solving approach.
Please see our Anti-Bullying Policy for more detail and information.
'Say No to Bullying' week
We have an annual 'Say No to Bullying' week that raises the profile of anti-bullying, providing opportunities to explore issues and ensuring all of the school community know our policy and procedures.
This year each year group/phase explored a specific area of bullying. This ensured that a range of topics was covered, issues relevant to specific year groups were addressed and that there was progression in children's understanding of bullying.
| | |
| --- | --- |
| Early years, Y1 & Y2 | What is bullying? What does it look like? What can we do ourselves? To help others? |
| Year 3 | Verbal and physical bullying, including body language and threatening behaviour. |
| Year 4 | Indirect bullying: gossip, leaving people out, body language. How does it compare to direct bullying? Is it any better or worse? |
| Years 5 & 6 | Cyber bullying and bullying which targets specific groups such as racism, sexism, homophobia, those with disabilities. |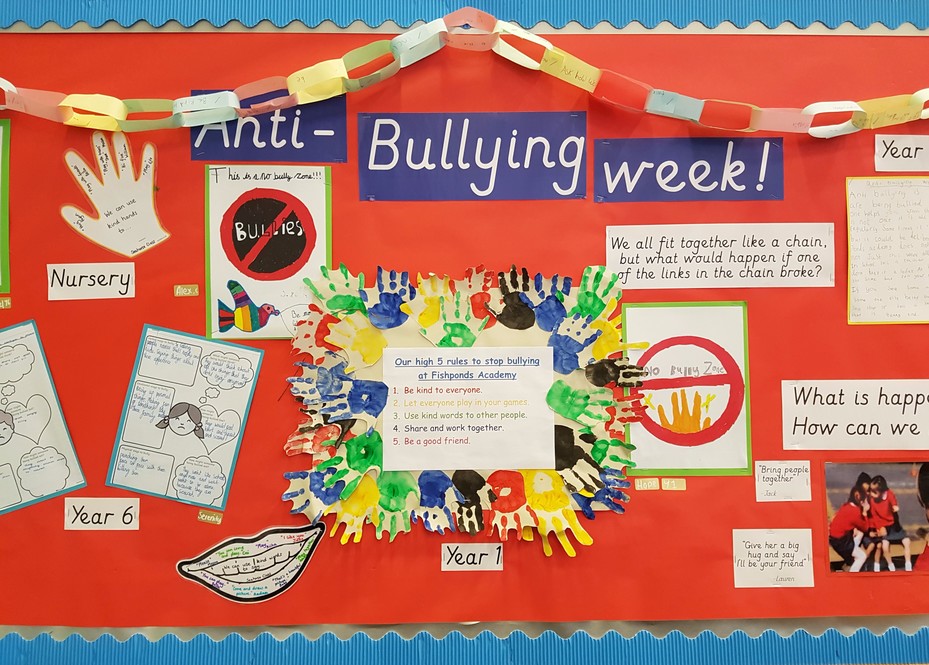 What we have learnt this week...
"We talked about stopping bullying. We should be kind to each other." LW – Year 1.
"Don't keep it a secret. Tell someone." MS – Year 2.
"Bullying is when something bad happens more than once on purpose." LRC – Year 3.
"Anti -Bullying week is a time for us to reflect on our behaviour and make changes if we need to. You can't change the past but you can learn from it." MA – Year 4.
"Don't be a bystander. They can be as bad as a bully because they are not helping the victim." ST - Year 5.
"If you experience cyber bullying, don't respond, tell an adult straight away." SB - Year 6.