At Fishponds CE Academy everything we do is rooted in our vision of love.

'Love is patient and kind; love does not envy or boast; it is not arrogant5 or rude. It does not insist on its own way; it is not irritable or resentful;[b] 6 it does not rejoice at wrongdoing, but rejoices with the truth. 7 Love bears all things, believes all things, hopes all things, endures all things.'
(1 Corinthians 13 v4 -7 Bible ESV)

We know that our school will be a great place if everyone follows the guidance in the passage above.
We strive to teach and live these values together. Everyone has a right to feel accepted and loved here at Fishponds.
We have a specific policy that outlines what we believe bullying to be and how we deal with any incidents. Click below to read our policy:
We also have a child friendly version of our policy in a leaflet.
Click here to read our 'Child Friendly' Say No to Bullying leaflet
Say No to Bullying Week 2018

We kicked off our Say No to Bullying week with an Odd Socks day. The children and staff wore brightly-coloured, odd socks to raise awareness and spread the message of 'We are all different but we are all equal'. We had a special assembly to introduce the week and get children thinking about what bullying means (unkind behaviour that is repeated) and begin to consider the different types of bullying.
Throughout the week the children looked at ways we could prevent and stop bullying in our school. Every class thought about what it means to be an 'upstander' rather than a 'bystander' in a bullying situation. We watched the following video which gave four key suggestions for ways we can step in.
https://www.youtube.com/watch?v=eeqQCyQOCPg

1) Be a buddy - This means showng the victim that they have a friend. This could be as simple as standing next to the victim in solidarity or putting your arm around them.
2) Interrupt - Giving the victim a reason to walk away by inviting them to play with you.
3) Speak out - Telling the bully to stop and label the behaviour, for example "That's mean, stop." This might also encourage others to do the same.
4) Tell someone - Tell an adult. This is not telling tales because you are keeping someone safe.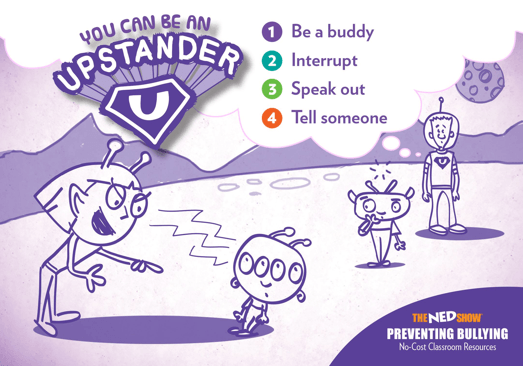 After learning about how to become an upstander the children in Years One to Six took part in a Comic Strip Competition. The children created a comic strip individually or in pairs to show a bullying scenario and how someone could prevent the bullying by being an upstander. This was also an opportunity for them to think in more depth about the different types of bullying:
Cyberbullying - being bullied on an app or a social network, fake profiles, altering personal images and sending it viral without permission or cyberstalking.
Social bullying - leaving someone out on purpose and isolating them, getting gang of people to turn against someone, always making someone the centre of the joke and spreading fake rumours and gossip about someone.
Name calling - calling someone names repeatedly and using insults to cause harm. Bullying vs banter and where the line is drawn. Using terms and insults that are racist, homophobic or gender based bullying.
Physical bullying - hurting someone physically, stealing their items/money, making threats or being violent towards them.


The teachers were blown away by the care and effort put into the comic strips. There was one winner from each class and they received a certificate and their work is being displayed on our Anti-Bullying board in the main hall.

There were also two other activities taking place in each class during our Say No to Bullying week. These are listed below:
Year group

Activities

Reception

Discuss meanness and bullying after watching a short animation.

Understand that we are all different but all equal and create odd sock paintings.

Year 1 and 2

Know what it means to be a good friend and create a friendship recipe.

Be able to distinguish friendly and unfriendly behaviour or good and bad secrets and be assertive enough to say no to unreasonable demands.

Year 3

Create a pledge describing how to act as an upstander to stop bullying.

Resolving conflict, recognising negative feelings and behaviour and know where to go for help.

Year 4

Examining violence: understand that violence is illegal and discuss how to resolve conflict respectfully.

Discuss kindness and create a kindness flower listing as many ways to be kind that they can think of on the petals.

Year 5/6

Anti-bullying debate activity leading to a deeper understanding of what it means to be a bully and ways to prevent or stop bullying.

'Expect Respect: Secrets and Stories' lesson - to understand the difference between good secrets and bad secrets. To understand that secrets can be used as a way to control or bully others and know that some secrets are unhealthy and it is ok to ask for help.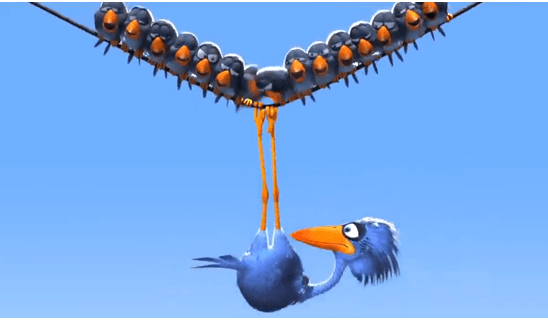 Stickleback class watched a short video about bullying called 'For the Birds'.
The teachers asked them some questions and they had brilliant answers.

What happened to big bird?
"The little birds were trying to get bird off. They wasn't being very nice to him."
"The little birds were being mean because they didn't want him on the rope with them."
"The little birds wanted the big bird to be gone.
Some examples of work produced by our children in Year 1 and Year 4: